Welcome to the HPR research library, where we are in the process of compiling peer-reviewed research studies and articles supporting the 'Warm Down' phase of our High Performance Routine.
Select another of the stages below to find relevant research papers, articles and tips.
"The brain did not evolve to 'switch off', so we need transition routines to help us consciously 'switch on' to other priorities."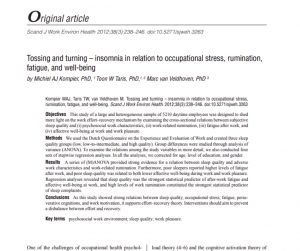 Research Paper
This study showed strong relations between sleep quality, occupational stress, fatigue, perseverative cognitions, and work motivation, which support effort-recovery theory.
Read More »