Preparation Phase Research
Welcome to the HPR research library, where we are in the process of compiling peer-reviewed research studies and articles supporting the 'Preparation' phase of our High Performance Routine.
Select another of the stages below to find relevant research papers, articles and tips.
"By failing to prepare,
you are preparing to fail"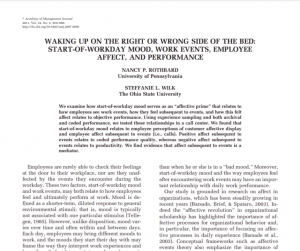 Research Paper
Studies show that your morning mood can stay with you throughout the day.
A person who turns up to work in a "good" mood, can be more than 10% more productive throughout their work day than those in a "bad" mood.
Read More »